​​Hello Reader,
Autumn is here, my absolute favorite time of year. Even though temperatures are moderate here on the Oregon Coast, it's still gets plenty warm in my upstairs studio. Few homes here have air conditioning, so my creative productivity always improves around this time.
To celebrate, I'm offering one of my favorite and most popular e-patterns (instant PDF download!) at a discount. This offer is only available to those who have subscribed to my new email list (thank you!!)
An abridged version of this pattern "Under the Harvest Moon" was created for Doll Crafter & Costuming magazine, September 2009 issue, so be sure to check your stash. The magazine ceased publication in 2010.
20% off ~ Under the Harvest Moon

Celebrate with me, and pull out those beautiful fall fabrics!
I've made many Harvest Moon dolls over the years, including some reduced in size. You can see them HERE.
The harvest moon is the full moon closest to the autumnal (fall) equinox. This year it fell on September 10 in the northern hemispheres. Historically, farmers could work and harvest crops for a longer time in the evenings.
The main thing I want to accomplish today is to videotape my promised tutorial on the ladder stitch. I began last weekend, but had to relearn my video editing program since it's been a long time since I've used it.
My patterns that use the ladder stitch all contain this hand-drawn illustration, but I think a video will demonstrate it much better.
I'll tell you something, I have to get over my aversion to being on camera!
The next email you receive from me should feature the completed tutorial. **fingers crossed**
Here's "Sewing with Freezer Paper Templates" if you missed it when you joined my email list.
Have questions? Don't hesitate to contact me at my new email address: deanna@blueherondolls.com or at my alternate email: blueherondolls@hotmail.com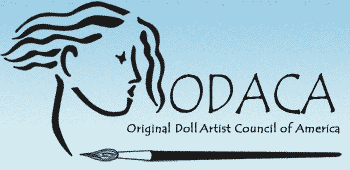 ​