Hello Reader,
This is my favorite time of year. Leaves are changing color, there's a chill in the air and there's the subtle smell of homes being heated by wood stoves and fireplaces. I think I need to make a hearty stew for dinner this week.
I've been working on a group of "Enigma" dolls and was drawn to fabrics that remind me of the season. I finished the third of six dolls this morning. These are all made from knits (velours), using horizontal or vertical fabric stretch directions.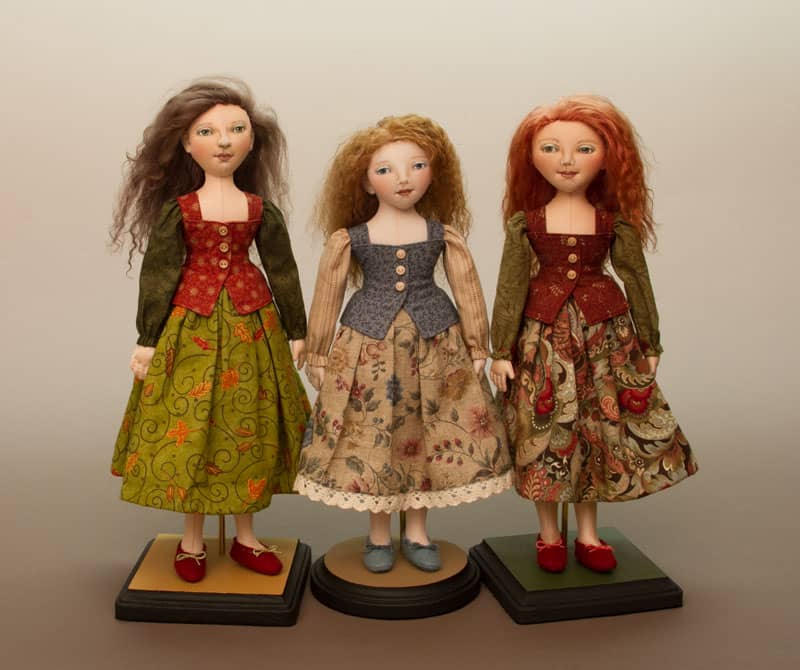 All three have hair made from Tibetan lamb on the hide, darted to create wigs that are hand sewn to the head. Most of the Tibetan lamb in my stash has been purchased from Dollmaker's Journey. They sell small pieces in a variety of colors. I have dyed my own with Rit dye (see the doll on the right), but this made the hide quite stiff. Honestly, I'd rather just buy it.
If you're someone who'd like to try hair made from Tibetan lamb, care must be taken to cut only the hide and not the hair. The method I've found to be the best is to use a #11 scalpel blade. I have quite a few from working as a nurse (these were unused, but expired and were being discarded), but you can also purchase them online from sources like Amazon.
I start by creating a wig pattern from paper toweling, marking where darts should be placed for a good fit. I sew the paper towel pattern and place it on the doll to see if I need to make any adjustments.
When satisfied, transfer the pattern to freezer paper. Then paying attention to the direction of the hair on the hide, iron the freezer paper pattern to the hide. I draw around the paper edge with a pen (in the case above, the hide was dark so I used a white pen).
While lifting the piece, use the scalpel to cut the hide; i.e., don't cut it with the piece lying flat on a cutting mat - that will cut the hair as well. Just be careful that you don't cut yourself!
Sew the darts, and voila!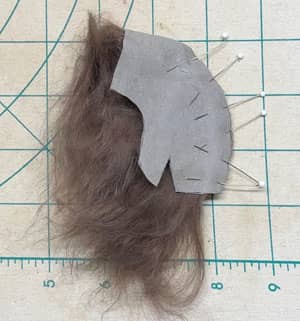 Deanna Hogan​
​www.blueherondolls.com​
deanna@blueherondolls.com