Hello Reader,
It doesn't seem real, but as of today I've been retired 46 days! Where did the time go? I've always heard (but was doubtful) that retired folks are busier than they were when employed. That being said, I'm finding that my Outlook calendar is remarkably full.
I've been busy with a variety of activities including chores, house projects, yard work, one-on-one art days with three of my four grandchildren before they head back to school, sailing, co-planning a huge upcoming retirement party, sewing, and making some time-consuming and tedious changes to my website (still a work in progress).
In my last newsletter I mentioned working on a new doll, a witch perhaps. With that in mind and before selecting clothing fabrics, I considered what I might use for hair. I found a piece of Tibetan lamb in my stash - black, with pale pink/mauve highlights. This isn't a piece I would have purchased (I generally favor auburn and browns), but for the life of me can't remember how I acquired it.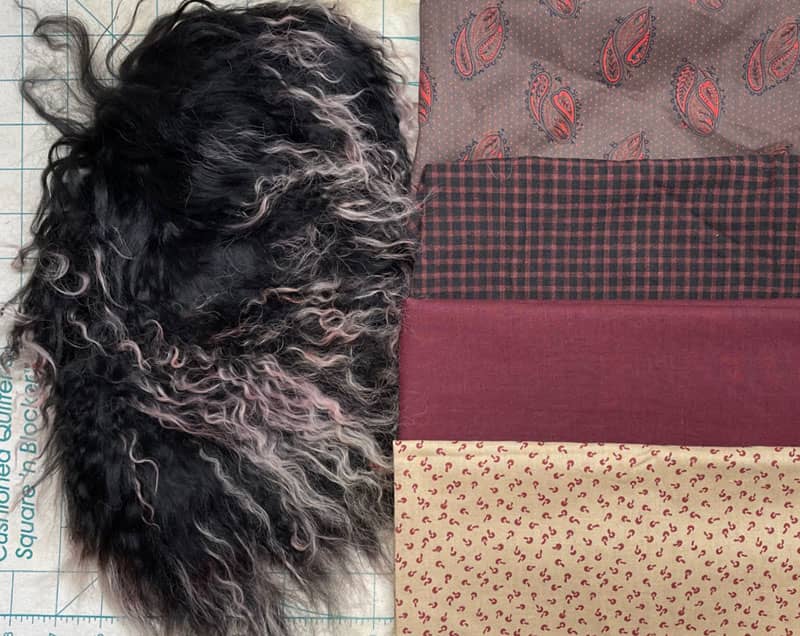 The hair color, theme, and the doll's complexion informed my fabric choices. With the exception of her boots, I kept the basic costuming fairly simple.
I didn't have anything on hand that worked for a shawl, so I decided to knit one instead (I am NOT a knitter). It's a simple narrow rectangle shape, but once again I had to review how to cast on/cast off yarn. I like how it turned out. The belt was made from my stash of leather, and I have a collection of tiny buckles.
At this point she could become a variety of characters - a witch, or someone else (not everyone wants to make a witch). With the belted shawl, she has the feel of Claire from the "Outlander" series.
Today I plan to give her ears, then make a wig of the Tibetan lamb. Fingers crossed the hair doesn't look too silly...
This doll (who has a cloth-covered polymer clay face) and/or the Enigma doll (not the one with the Amelia Earhart costuming) I taught at an in-person class may become my first online courses.
For those of you interested in an online course, let me know which of these interest you the most.
Deanna Hogan​
​www.blueherondolls.com​
deanna@blueherondolls.com